24 HR Covid PCR Testing
We offer a 24-36 hour turnaround time on RT-PCR COVID-19 tests for travel and illness, Monday-Friday 8am to 3pm. $50 with insurance for illness, $125 without insurance or for travel.
Rapid COVID Antigen Testing
We provide Rapid COVID Antigen Testing for $60, Monday-Friday 8am to 3pm.
VACCINES AVAILABLE!
Complete the Vaccine Intake Form below to schedule your vaccine! We offer COVID, Flu, Pneumonia, Shingles, and more!
Walk-ins welcome on Mondays, Wednesdays, and Fridays from 8am-5pm. Click below to complete the intake form.
COVID Antibody Testing, Injections (B12, Immune Boosters, & Fat Busters), Weight Loss Evaluations, Well Visits, and more. Click below to schedule an appointment.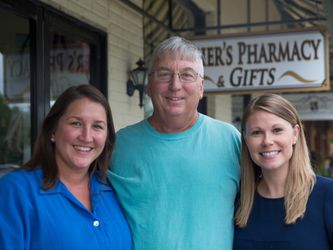 Johnny Roehm, RPh
Morgan Burch Roehm, PharmD
Katelyn Roehm Tidwell, PharmD
Serving the DeFuniak Springs Community
Offering Curb-Side Pick Up
Serving our Community Since 1954
Here at Fisher's Pharmacy, your family's health is our top priority and we will take the time to answer any questions. We offer traditional prescription filling, COVID-19 vaccines, RT-PCR COVID-19 tests, immunizations, curb-side pick up and much more.
What Our Patients Love About Our Pharmacy
Subscribe to our newsletter
Stay up to date with our pharmacy with exclusive content.