What Our Patients Like Most About Our Pharmacy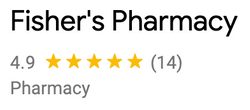 "The best pharmacy in DeFuniak Springs by far. They care about the people they serve and are always willing to help."

"They Make you feel welcome ! Like you been there for generations"

"Wonderful staff, quick service, wonderful family run establishment."

"Great family owned place."

"Family owned, doing business the right way. They go above and beyond to take care of the customer."

"Great baby and wedding gifts, fast refills and wonderful staff! "

"Fast service, friendly faces."


"Fast, courteous, and efficient. The pharmacy that cares for their customers and hometown. Also a great gift shop with a huge selection of quality items."